THIS IS A MEET AND GREET WITH CANNABIS BUSINESS OWNER AND INVESTOR
THIS IS NOT A SMOKE PARTY ITS A BUSINESS CONFERENCE
( NO SMOKING WILL BE ALLOWED )
GREAT BUSINESS EVENT FEB 9TH 10TH AND 11TH
CALL FOR EVENT INFORMATION (626)385-8355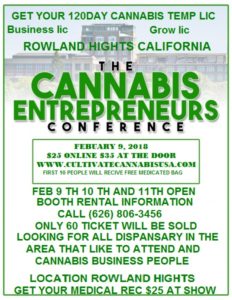 If you're tired of small returns on your investments, then it might be time for you to invest into our established cannabis , and experience the "green rush", because we are offering a rare opportunity to a select group of individuals or companies, with a minimum of 30% returns.
We have a dedicated expert who has setup our locations and determined that we will do some astounding numbers in 2018 and beyond.
Minimum investment:
$20,000 Minimum 30% yearly with our company within 1 year.
$50,000 40% return
While a 30% yearly return is the guarantee, the company expects the returns to be higher.
This opportunity is for a limited time, send name and phone number.
CONTACT US AT  (562) 4500784 send a text message or leave a message for Daniel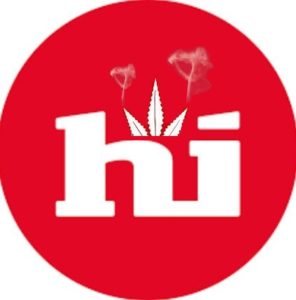 SMOKE LOUNGE
COMING SOON TO POMONA & CHINO HILLS THE HI SPOT SMOKE LOUNGE.

MEMBERS ONLY SMOKE LOUNGE B.Y.O.W. = BRING YOUR OWN WEED POLICY
FOOD STAND FOR MUNCHIES – hot dog / ice cream / soda / pop corn and Plenty more
LONER'S  SMOKE SHOP WILL BE THERE: WITH MEMBERSHIP ONLY ALL NON MEMBERS WILL NEED TO PUT CREDIT CARD ON TAB OR CASH DEPOSIT BUT ALL MEMBERS WILL HAVE FREE USE OF  / BONG LOANERS  / WATER PIPE LOANERS /   DAB RIG LOANERS /DAB TOOL / ASH TRAY / ALSO 30% OFF OF ON BLUNT PAPER / JOINT PAPER / RAW PAPERS / T- SHIRTS / HATS / ACCESSORIES AND PLENTY MORE
ALSO LOOKING FOR INVESTOR OPEN MORE SMOKE LOUNGEOR TO INVEST IN CURRENT LOUNGES.

CALL (626)806-3456 ASK FOR JASON
KUSH-STOCK 2018 MARCH VISIT US ON INSTAGRAM

@CULTIVATECANNABISUSA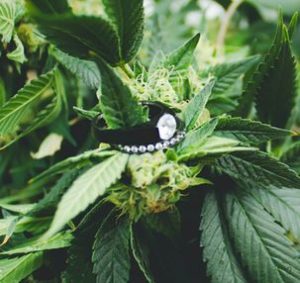 WEEDING PARTIES
First, tell us some details about your Cannabis wedding planning needs. Within hours,
we are a experienced wedding planners who can plan your wedding. Each custom quote includes a price,
personal message, and Cannabis Flavor profile, which contains reviews on the flower we provide, hire Cultivate Cannabis USA when you're ready.
Cultivate Cannabis USA Events is a Cannabis boutique event and wedding planning firm based in West Covina California
that has been creating stylish and memorable weddings since 2016. We pride ourselves on getting to know our clients Cannabis
needs and planning a wedding that truly reflects them personally. We accomplish this by listening to our
clients and pulling together a team of vendors that matches our client's style, budget and personality.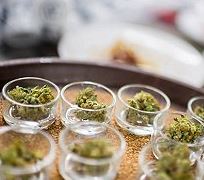 Cannabis Flower